Fläpps Shoe Racks
Especially in narrow entrance areas of big city apartments there is often only little space for a shoe cabinet. To put an end to mountains of shoes and tripping hazards, all Fläpps wall shelves with a shallow depth can now be transformed into a shoe rack with a simple trick. Practical and flexible storage space in a minimal area for shoes, purses and keys, Fläpps shoe racks offer that little bit of variety in narrow hallways. The wall-mounted shoe racks remain flexible even with the add-on and can be folded away or reused as a wall shelf as needed.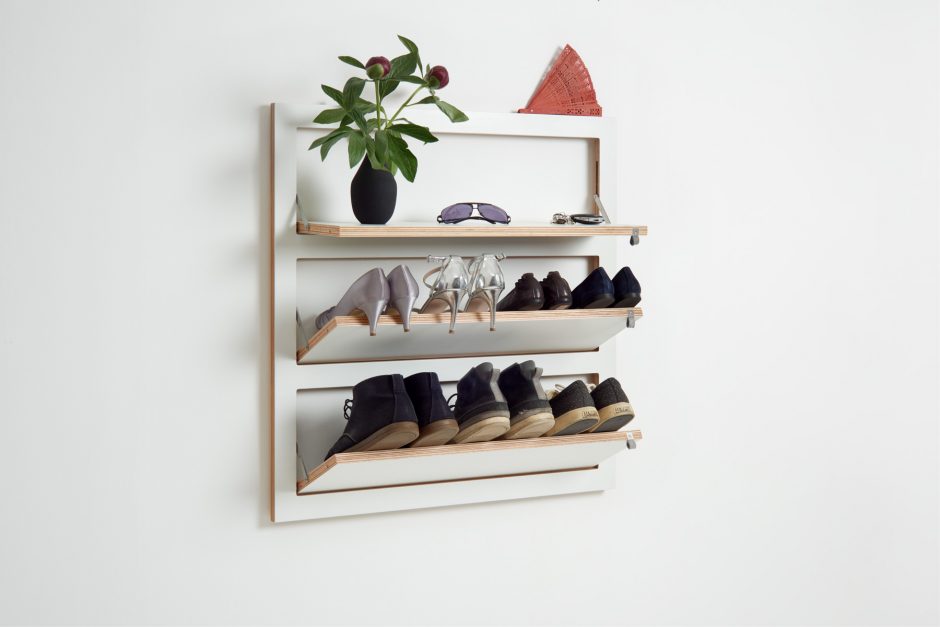 Notes
Mounting
Detailed assembly instructions are included with every Fläpps product. The assembly instructions also serve as a template for marking the top holes. The instructions also explain step by step how to install the Fläpps module on the wall.
Safety Instructions
1. Take care that the wall-mounting will be done professionally.
2. Only use appropriate materials for the mounting. Be sure about the carrying capacity of the wall.
3. Be aware of any possible water- and/or power supply lines before drilling and take them into account.
4. Check first! Be sure that the mounting was done correct before the product will be used.
5. Use the Fläpps products only indoors.
6. Be aware of the danger of pinching while folding.
Care Instructions
The lacquer surface is easy to clean and does not need any special maintenance. A dust feather or a wet cloth are enough to simply clean any dust from the product. Stron- ger stains can be cleaned by using a mild cleaning agent. Stains from ink, fruit, felt-tip pens, tea, coffee, red wine, or mustard need to be cleaned immediately. Otherwise these stains will affect the surface permanently.
Never use any cleaning agents which create a layer on the surface such as wax or oil since they can become yellow and resinify. Neither should cleaning agents be used which can remove the layer of the surface such as strong clea- ning agents, abrasive powder or any solvents.
Wall Pocket: In the case of light soiling, the wall pocket can be easily cleaned with a brush. Stains are best remo- ved with a sponge and a mild soap.